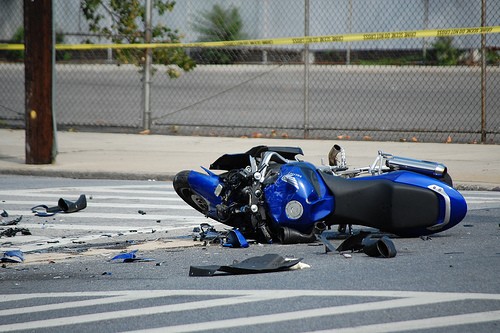 Have you been in a motorcycle accident in Greenville, SC?
Motorcycle accidents are 35 times more likely to result in serious injuries or deaths when compared those in passenger car wrecks. The primary reason for injuries resulting from motorcycle accidents is that motorcycles offer little protection when involved in a collision. Helmets save lives, but are the only real protection offered in the instance of a motorcycle accident. According to the Governor's Highway Safety Association (GHSA), wearing a helmet is the single best way to prevent motorcycle accident fatalities. It is estimated riders are 37%, and passengers are 41% less likely to receive a fatal injury while wearing a helmet. Motorcycles are also much smaller and lighter than other vehicles, meaning that they can be much harder to see and therefore more at risk to possible collisions. The liability issues in motorcycle accidents can be very different from standard car wrecks. The Law Offices of Perry B. DeLoach, Jr. wants to represent you so you can obtain the best resolution possible. Call (864) 520-1101 today for your FREE legal consultation.
Motorcycle Accident cases demand immediate attention. Please call us today.

Some of the unique Risks of Motorcycle Riding:
Cars Making Left-Hand Turns: One of the most dangerous situations for a motorcyclist occurs when cars are making left-hand turns. Usually the car turning strikes the motorcycle that is going to continue heading straight, passing the car, or trying to overtake the car. A motorcycle is less visible, and therefore harder to see.
Collisions Between Motorcycles and Objects: Another threat to motorcyclists is any collision because of the increased likelihood that the riders will be thrown off of the motorcycle as opposed to an automobile accident where the occupants are much less likely to be thrown from the vehicle. 
Road Hazards: The risk is higher when on a motorcycle because of their smaller size and less stable nature. Therefore, potholes, roadkill, objects in the roadway, as well as pavement conditions and weather conditions can greatly increase serious safety threat to motorcyclists.
Lane-Splitting: Occurs when a motorcycle drives between two lanes of stopped or slow moving traffic. It is a common cause of accidents because of the close proximity of the cars to the motorcycle, the reduced space that the motorcycle can maneuver in, and the fact that cars usually do not anticipate that any vehicle will be passing them in slow or stopped traffic. Illegal in South Carolina.